GENERAL
All watches have high quality, accurate, quartz movements. Most watches have Swiss movements, however some have very high quality Japanese movements.
GOLDTONE WATCHES
Goldtone watches are electroplated in 23 karat gold for long wear and 100% satisfaction.
KARAT GOLD WATCHES
Global Rewards "Special Order Desk" offers a large assortment of high quality 14 kt gold watches and pocket watches. Quotes and illustrations available upon request.
LOGO & MARKINGS
Models are available with either the standard "RCMP Crest" or the "RCMP Rider". Unless specified otherwise, all watches will be shipped with the RCMP Crest. The standard markings over either logo is "RCMP - GRC" Upon request, standard markings with be replaced with either "RCMP" - or - "GRC"
Customized logo's and markings can be easily accommodated, ie: Directorate logos, Troop watches, activity watches, eg: "Dive Team", "Police Service Dog", "Search & Rescue", "Air Division", "Musical Ride", etc. Normal turnabout time for special orders is 30 days.
An example of a customized watch which was done for the Laboratory Services is illustrated below: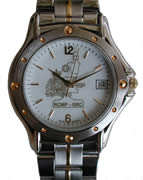 An example of a customized watch which was done for a retiring member is illustrated below: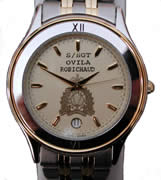 Watches are normally manufactured with an "etched" gold or silver crest, however, if required, a coloured RCMP crest can be provided, eg:
WARRANTY REPAIRS
For all time pieces requiring repair, which model number is prefixed with the letter "M", forward watch direct to the Mounted Police Watch Service Department at:
MPW Service Department
P.B. 488560
Qutremont, Quebec H2V 4T3
Please enclose $10.00 to cover handling charges and return postage and include any details required by the original warranty. You will be contacted if any work is required, not covered by the warranty. It is recommended that you insure any item being sent for repairs or service.
SHIPPING
Watches are assembled in Canada at the time of purchase and will normally be shipped within one week.